Ramneek Sidhu: A Renowned Entrepreneur And Digital Marketer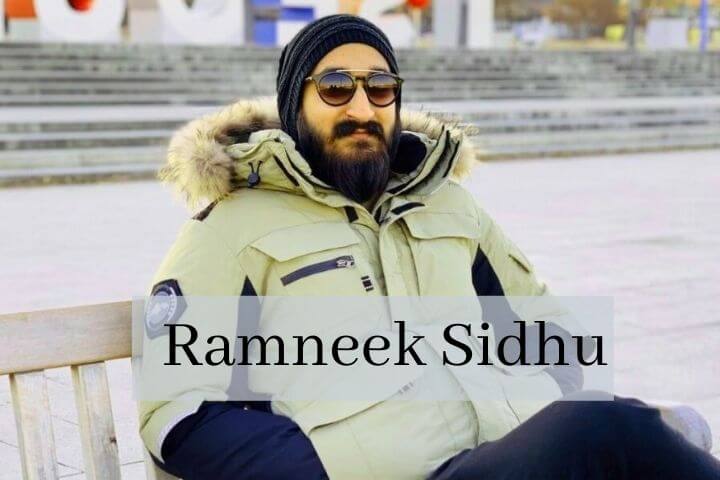 It is almost impossible to ignore digital marketing in this era. Nowadays, most enterprises are advertising and selling their products online. Yet, most entrepreneurs have no prior knowledge of marketing products online. Companies need digital marketers like Ramneek Sidhu to deal with these challenges.
Ramneek Sidhu has gained popularity over the past from his innovative marketing strategies. Ramneek was very curious about his work from the time he was 20 years old. As a result, he worked with many Bollywood and Hollywood celebrities.
Ramneek Sidhu's Background
To better understand Ramneek's rise to the top, we must first look at his background. Ramneek was born on 2nd January 1995. He spent his early years in a region known as Mohali, Punjab. Ramneek was different from the other kids because he was very innovative. Most of his agemates used social media for gaming and socializing at a young age. Ramkeen was busy looking for ways of exploiting the digital space.
Ramneek Sidhu joined Rayat and Bahra Group of Institutes in Mohali, Punjab. In college, he studied Bio-Technology. While in school, he set up a digital company called Digital Kings in 2015. Digital Kings has grown and is now a name to reckon with. Currently, the company manages celebrities' social handles. The company also provides different digital marketing services to global brands.
Between 2013 and 2016, Ramneek Sidhu worked for a small digital company as an IT head. The experience he gained from this local company helped shape his future. In 2016 Ramneek decided and quit his managerial job to concentrate on his company. At that moment, leaving his job for an uncertain future was quite a risk. But he did it anyway; he is enjoying the fruits of that risk right now.  
Ramneek Sidhu Inspiration
Every successful entrepreneur derives motivation from people. Who overcame challenges and excelled in their respective fields. Growing up, he followed their stories as they ascended to the top. Inspired by these high-profile people, Ramneek Sidhu could not settle for less. He has built his company from scratch and made it a titan in the digital marketing Industry.
According to Ramneek Sidhu, a successful entrepreneur must have three remarkable skills. An entrepreneur must have tenacity, patience, and curiosity. The three skills are relatable, and you cannot succeed without synchronizing them. A person can only achieve long-term goals through patience and unreeling tenacity. For an individual to make discoveries, they must crave more knowledge, and they will have to go the extra mile to meet their curiosity in doing so.
Ramneek Sidhu's Journey To Success
Ramneek Sidhu started from nothing to something. He has become a famous entrepreneur in the 

digital workspace

. He helps clients scale their enterprises to new heights through online marketing.
There is a journey to every success story, and Ramneek Sidhu's success is no exception. The pioneer has overcome many challenges to make his company a first-class digital company.
Ramneek Sidhu is searching for new ideas to be better in his work. He strives to grow his client's brands by engaging his innovative team. The remarkable team behind Digital Kings is handles making various brands visible online. Ramneek Sidhu's team helps clients increase their digital presence by promoting their content online.
So far, Ramneek Sidhu has worked with many celebrities. He has managed his social media accounts. To improve his followers and digital engagement, he exploits innovative hacks.
Ramneek Sidhu has experienced a lot during his journey to success. He acknowledges the trick to developing a working digital marketing strategy: recognizing the target group's desires.
Ramneek has an exciting background. A background that has helped him create an authentic brand. Hailing from Mohali, Punjab in India, and elevating to greater heights in digital marketing is quite a story. The lad's story is from rags to riches. He built a company without any support. He overcame all the challenges associated with starting up a company. Then developed the company into a first-class digital marketing enterprise.    
Digital Kings Company
While pursuing a BTech course at Rayat Bahra Institute in Mohali, Punjab, Ramneek Sidhu founded Digital Kings. Ramneek Sidhu, at the age of 20, knew what he wanted from life. At such an age, most youngsters struggle to figure out life. In the beginning, the company focused on managing social media accounts. It has since grown to save expiring accounts from closure, and it does this by engaging innovative strategies.
Through Ramneek Sidhu's brilliant innovations, Digital Kings has become a giant in digital marketing. Currently, the company has expanded and has offices in India and Dubai. The company promotes brands and elevates them to new heights through visionary ideas.
Digital kings manage accounts belonging to high-profile celebrities. Through extensive research and experimentation, the company has handled rejuvenating collapsing accounts. The company is also responsible for popularizing brands worldwide.
One trait that pushes Ramneek Sidhu is the urge to know more. He researches the digital market, identifies problems, and solves them. Digital Kings has a remarkable team. The team scopes the digital market landscape, identifying current trends and opportunities. The digital team led by Ramneek develops the means of utilizing these opportunities.
Ramneek Sidhu Social Media Presence
Ramneek Sidhu has created an interactive social media space to sell his brand. He has accounts on most of the social platforms. Social media presence makes it very easy for his potential clients to contact him. The clients also can learn more about him from his posts.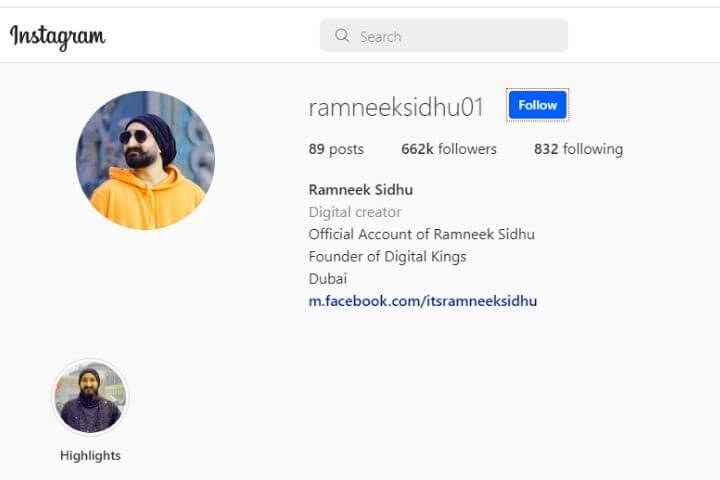 Ramneek Sidhu's fame increases with the growing number of followers on social media. Currently, he has 667k followers on Instagram. He shares his daily life and explorations on Instagram. Now and then, he shares some of his inspirational quotes. A client can know that he is a humble and down-to-earth person from his posts. He is not afraid to air out his views on trending issues and life in general.
He has made a name for himself on YouTube, with one of his videos amassing two million views. Most of his YouTube videos concentrate on his background, daily experiences, and career. A contributing factor to his success is the Genuity of his content on Instagram and YouTube. He shows how the journey to success is full of challenges and the means he uses to overcome these challenges.
Apart from Instagram and YouTube, Ramneek has LinkedIn and Facebook accounts. In these accounts, he can interact with his clients, and he can also advertise himself to potential clients better.
Lessons From Ramneek Sidhu
Youngsters can learn a lot from Ramneek Sidhu's journey to success. He started a company from scratch at a young age, and overcoming the challenges is quite an inspiration. Youngsters should note that everything is possible if you believe in yourself. Ramneek had a dream, and he had to sacrifice a lot to realize it. When most of his age mates used social media for gaming and chatting, Ramneek did quite the opposite. He dedicated his time to identifying opportunities in the digital marketing space. Then devised means of exploiting them.
Ramneek Sidhu worked hard and struggled to get his company to this place. He strives to do market research and develop innovative ideas for customer satisfaction. Youngsters must know that success does not come on a silver platter. Success comes from hard work and sacrifice.
Social media interactions with Ramneek Sidhu show a passionate and humble guy. Youngsters must strive to be humble; this trait is vital in attracting clients. Clients will use any means possible to avoid rude individuals. Rudeness is a sign of incompetence. Ramneek states that there are a lot of challenges in entrepreneurship. Especially when an individual is striving to succeed. For entrepreneurs to overcome these challenges, they must be consistent and determined.  
Ramneek Sidhu being a brand, acknowledges the importance of working on your brand. Entrepreneurs must be consistent in their performance. Consistency is vital in securing the brand's reputation. In this ever-changing world, it is crucial to stay on top of your game and keep up with the latest trends in the market. Ramneek Sidhu stays on top of his game by keeping up with the upcoming innovations.
Ramneek Sidhu Vision For The Future     
Ramneek Sidhu sees himself working on innovative ideas like his mentors Bill Gates, Jeff Bezos, and Mark Zuckerberg. Ramneek's vision for the future is to work on new ideas in the digital marketing space. Ideas that can improve his clients' experience.
Ramneek Sidhu is working on expanding Digital Kings' outreach to Canada. Currently, the company has offices in the UAE and India, and these offices are not capable of serving its ever-growing list of clientele. Expanding to Canada can better serve the clients in North America.