Which Video Projector To Choose, How To Use It?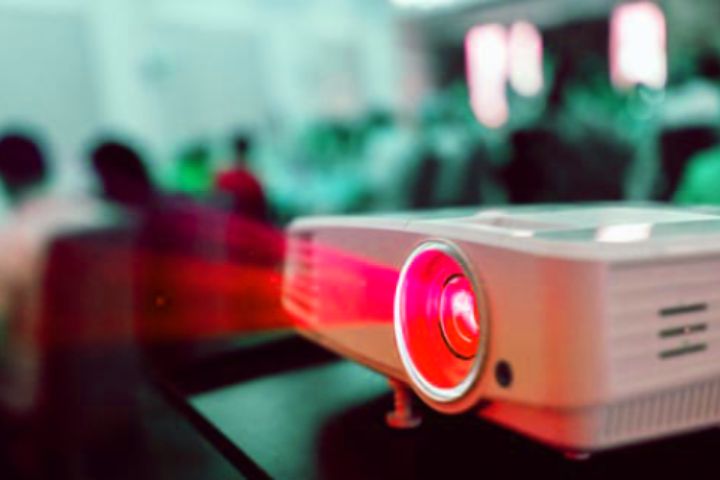 Video Projector : Designed to reproduce a video source, the video projector is a device that allows, as its name suggests, to project a video on a separate screen or on a white surface like a wall or a sheet. With projection distances that can reach several meters, a simple adjustment of the screen size and a few models that advocate low power consumption, it is not surprising to learn that the projector has happy days with consumers. 
How To Choose The Right Projector?
But be careful, we do not choose a video projector lightly. To bet on the right product, everything will depend on your budget and your needs. For daily or even professional use, you will necessarily have to put the price. For less frequent use, on special occasions or a few evenings in the month to decompress from a busy day, consider opting for more accessible models (but which do not lack features either!).
WI-FI, HD, LED, 4K.What Type Of Projector To Choose?
If the visual quality of the projectors is no longer to be demonstrated, their reputation also comes from their many models. Indeed, this equipment is available in a wide series of models all imagined to satisfy any consumer and wallet. The Wi-Fi projector, for example, is easy to use and equipped with Wi-Fi technology. The HD (or High Definition) model is used with a DVI or HDMI digital jack for video with a resolution of 720 x 1280. Ideal for watching a movie with your children or friends. 
Regarding the LED, known as low in energy consumption, it stands out for its silent appearance and which lasts over time. A very good investment, therefore. Finally, there is also the latest model: the 4K video projector, with a resolution of 3,840 x 2,160 which will offer you the best in terms of visual and sound quality. But, of course, to get your hands on this latest generation video projector, you will have to put the price on it.
Video Projector: The Mini Format For Small Budgets
Our ultimate advice if you want a video projector but don't want to spend too much? Choose the mini format! Both practical and elegant, this type of video projector allows an ultra simple use, and adapts to the whole family. Not to mention the fact that it is much more accessible. For example, Hopvision's 6500 Lumens has a projection distance of up to 6 meters. 
Ultra simple to configure, this projector is as convenient to watch a movie indoors as outdoors. And its sound quality is worth it: with its two built-in speakers, you can also integrate an external speaker. To ensure a real home theater without breaking the bank, we also recommend the Vamvo YG300 Pro. 
Its main asset (or at least the one we notice first) is that it is both small and light. With its weight of 0.347 kg, it is transportable everywhere. It also has multiple ports, such as HDMI, USB, AV, Micro SD card support and a 3.5mm audio output compatible with fire key, PS4, USB flash drive, smartphone, tablet and PC.
Projector 6500 Lumens 1080P Full HD HOPVISION, 92,99 dollars

Mini projector YG300 Pro 1080p Full HD Vamvo, 73,99 dollars instead of 89,99 dollars
The Best Value For Money!
If your budget allows it and you want to put a little more expensive in your projector, we have something to satisfy you in this selection. We offer you to go on various models, such as the full HD projector Artlii. Its native resolution? 1920 x 1080 Full HD with 4K support, for Youtube or streaming video. With its 5.0G frequency Wi-Fi support, this device is ultra convenient and fluid to enjoy both a good movie with your family or project your latest achievements in the office. 
In short. Excellent image performance, ultra simple connection with Wi-Fi, Bluetooth connection, realistic reproduction of natural colors. All this for a largely affordable price. 
Features that are also just as interesting on the Yaber 6500 Lumens projector. Ideal for watching streaming videos, it will prove to be very useful for those who want a home theater experience. While it is not recommended for professional presentations such as PowerPoint and Excel, it has a new imaging technology to provide you with impeccable visual quality suitable for home entertainment. To see or review a good movie or have fun with video games, nothing like this!
Energon 2 Full HD WiFi Bluetooth Artlii projector, 289,99 dollars

WiFi projector 6500 Lumens YABER, 109,99 dollars instead of 129,99 dollars

Artlii Bluetooth WiFi projector, dollars101.99 instead of dollars119.99
High-End Projector: Which One To Choose?
For those who prefer the high-end and are not afraid to invest, you will surely fall for these models of video projectors. If BenQ already spoils us with its products connected to the image of computers and other high-tech accessories, the brand also offers its own high-end video projector: the W2700. 
Equipped with 8.3 megapixels that offer exceptional image quality, this product also does not skimp on details. With its CinematicColor technology, the device will reproduce the original colors of the Rec. 709 and DCI-P3 color spaces while providing an ultra-wide digital cinema color space. But that's not all: at BenQ, CinemaMaster Video+ and Audio+ 2 technologies aim to transform your home into a real movie theater. 
Always on the high-end side, we can only advise you to go for XGIMI products. For example, the Horizon FHD projector is literally a reference. This model is no less than 2.07 million pixels, 2200 ultra bright ANSI Lumens and a maximum resolution of 4K at 60 Hz. 
On the sound side, it can only make you travel like in a movie theater since it is provided by two built-in 8 W speakers. It's up to you to stream entertainment wirelessly from any device, like Apple or Android via built-in Chromecast. With its ultra-contemporary design and its very surprising ease of use, we have only one thing to say to you: let yourself be tempted!
BenQ 4K projector, dollars 1,589.95

1080P projector supports 4K XGIMI, dollars1,044 instead of dollars1,099

Projector MOGO Pro 1080P Full HD XGIMI, 549 dollars instead of 599 dollars