No-Code And Its Application To Digital Businesses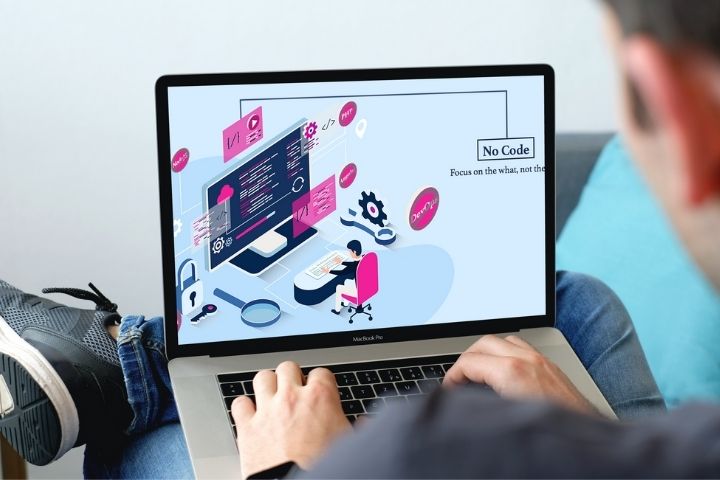 Digital businesses have found a great ally in no-code, that is, in programming without code. When we talk about no code we refer to all those platforms and tools that allow you to develop applications, software and web pages without having to write code . 
Since no programming knowledge is needed for this, anyone who wants to create a digital business and facilitate its processes or establish a business model, can use the no code. 
What Is No Code?
One of the great challenges for "non-technological" entrepreneurs is the lack of technical capabilities to develop products that allow them to carry out their business model. 

The no code move  solves this problem, as it allows anyone without technical or programming skills to create

applications

and processes that require code. 

For this reason, no code is also known as programming without code, since it does not require the user to handle coding languages ​​to create a software or application. You can do it from a visual and easy environment by dragging and dropping elements. 

There are no-code tools for a myriad of applications, which adapt to different objectives, so you can easily create a native mobile application, web applications, a

web page

or create automations.

Therefore, it is considered very valuable for people to get into creating software in a didactic way and without so many complications. 
Application Of The No-Code To Digital Businesses
No-code tools allow you to cover any need for software development without having to rely on programming languages. As we have pointed out before, with these platforms you can create web and mobile applications, chatbots, automations, integrations between platforms or even create your own CRM, process payments, etc. Everything will depend on your needs.

For example, you can use a tool like Card to create a landing page in no time. It is ideal, above all, for small businesses that require a simple, visual website that adapts to different devices (responsive) and without too many options. Another way to apply no-code to digital businesses is with Shopify, a platform that allows you to set up an 'ecommerce' easily and quickly without knowing programming.

There are also no-code tools that allow you to create more advanced solutions for digital businesses. Such is the case of Web flow, a platform that allows the creation of personalized and professional websites from scratch, but also on a visual canvas without code. It has a slightly higher learning curve than other no code platforms, but is well worth it for the results it offers. 

No-code has many applications in digital business, and another one that is quite on the rise is chatbot. Conversational bots or chatbots, allow users to interact with companies and provide automatic responses. They are widely used today to improve the customer experience. One of the most prominent non-code Chatbot tools is Land bot. With it, create your own chatbot with advanced features, without having programming knowledge, and you can do it intuitively and in less time than you think.

If you want to know more no code tools, we suggest you take a look at the following list of more than 200 no-code tools .
Also Read : Gantt Chart: Advantages And Disadvantages For Project Planning
Advantages Of Using No-Code Tools In Digital Businesses
If you have a digital business, in any sector, no-code tools can be very helpful to boost it. These are the main advantages of this type of platform.
Greater Business Agility
Digital businesses have many opportunities for success because the vast world of the Internet offers options for everyone. However, the digital world is also highly competitive, and continues to expand, leaving companies feeling more pressure than ever to respond to market changes, customer expectations and purchasing trends. 

No code tools allow businesses to be more agile because applications and solutions can be created in less time to improve any business or problem that arises in them. 
Reduce Times And Increase Productivity
The fact of not having to depend on a programmer to develop an idea allows a great reduction in development times. In addition, tasks such as maintenance, changes or new developments will not depend on external people. You can do it by yourself. Just imagine automating your invoicing processes with invoice scanning software. Saves a bunch of time, cheaper and more efficient!

There is also an increase in productivity, as technical aspects tend to take a lot of time from creative work. Likewise, by having the application quickly available, you will be able to automate different tasks within the company and thus optimize the time to dedicate it to other tasks of greater relevance for the growth of the business. 
Lower Investment
This is especially important for small digital businesses. With no-code tools it is possible to create different web and mobile applications in a more profitable way, because if you hire developers to create the solution you need it will be more expensive.

As you can see, no-code has many applications in digital business. Thanks to this movement, you will be able to create fast, efficient and profitable solutions to boost your business in the digital world without having to go into programming.
Also Read : Advantages And Disadvantages Of Work From Home