What Are The Main IT Trends?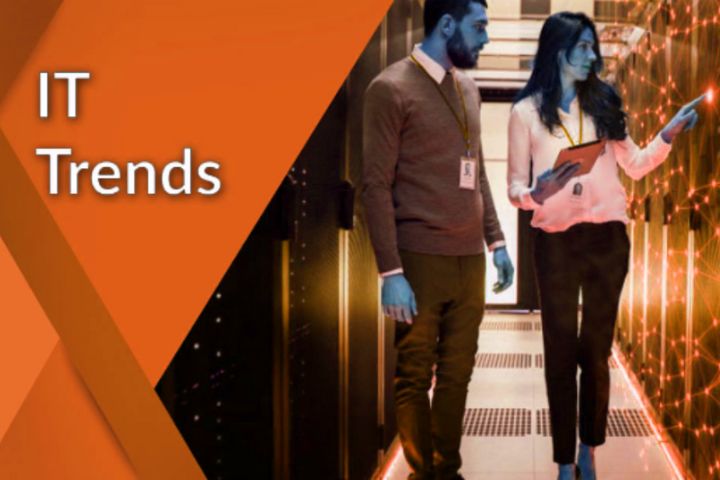 IT Trends : The digitization of companies. This phenomenon is all the more striking in that it upsets the habits and working methods of companies, that it is the source of many new markets and areas of growth for these same companies. Computing is not just about a computer and its peripherals, it is now slipping everywhere. Whether it's cloud computing, IoT, big data, DevOps, artificial intelligence (AI ), machine learning, here is an overview of the main trends in computing .
IT Trend 1 – Cloud Computing
Cloud computing is the main enabler of the digital transformation of the economy. Also called " Computing in the clouds ", it places the Internet at the center of users and represents a turnkey service offering allowing companies to use remote material resources (servers, computers, etc.) and automate a certain number of tasks such as the maintenance of IT infrastructures.
For example, many companies (such as Netflix, GE, etc.) have gradually eliminated their private data centers in order to migrate to the public cloud . Moreover, trends show that investments in Cloud computing will increase to reach 300 billion dollars . These massive investments should go hand in hand with more frequent recourse to consulting companies specializing in the cloud and able to support organizations in configuring their environment and making strategic decisions.
It is thanks to this technology that your users will be able to respond to their mobility problems by having access to their documents anywhere and at any time. These infrastructures are much "lighter" in terms of costs and materials . Managed by IT professionals (lack of resources and talents within small and medium enterprises), you will only have to concentrate on your core business .
Trend 2 – Mobile Internet
This technology has literally exploded in recent years: your smartphones and tablets are equipped with it. Hence the importance of Cloud infrastructures that will allow your employees to have access to all their documents, including on their mobile devices.
According to a study carried out by Hootsuite and We Are Social on the main trends in digital and social networks (LinkedIn, Facebook, etc.), it appears that 88% of people use the Internet and no less than 500,000 new Internet users have been counted.!
This is why mobility applications and solutions have exploded in recent years. Each department of the company is affected by this phenomenon: sales, marketing, human resources (HR), "product" teams. It is no longer just a question of giving smartphones to employees but of deploying a real mobile fleet. It is a large-scale project that must be carried out with constant and reactive support in order to guarantee efficiency and safety.
IT Trend #3 – Cybersecurity
Cybersecurity must (if it hasn't already) become the number one concern for businesses. The phenomenon of digitization has increased the need for IT security . Individuals, businesses and administrations are now facing increasingly frequent computer attacks, and above all increasingly significant ones. According to an article published in Economie Matin, 92% of SME managers say they have been victims of at least one cyber-attack, compared to 80% .
A few years ago, hackers very often targeted large companies with a very large volume of data (therefore more interesting) but the systems put in place were also much harder to hack than those of small companies or SMEs. Even if VSEs and SMEs have less data, the impact that this can have on their organization is enormous.
The costs related to the damage of cybercrime are estimated at nearly 600 billion USD by 2022 ! The concept of cybersecurity is becoming a priority: companies are now beginning to perceive the need to set up a real internal security policy , associated with services (antivirus, firewall, regular audit of the information system, securing of data, etc.) efficiently; without forgetting the training and awareness of end users. Security is a major issue for companies, it can no longer be put in the background!