OnePlus 10 Pro: A Smartphone With A Magnificent Screen Cut For All Budgets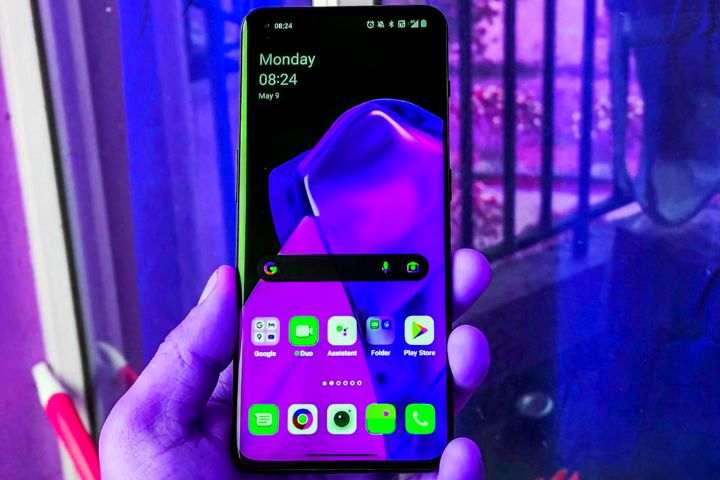 The OnePlus 10 Pro is an excellent value for money smartphone. Well designed, well built and above all very efficient, the OnePlus 10 Pro does not stand out as much as its elders in the mass of affordable flagships currently on the market.
Note that OnePlus is now much more integrated with Oppo after their merger within BBK Electronics, their parent company, which allows it to have a new overlay applied to Android 12. OnePlus retains its OxygenOS, but there are now many similarities with Oppo's ColorOS, which can be an advantage or a disadvantage depending on taste.
The device has a layer of glass (Gorilla Glass 5) and a metallic finish, which gives it additional ergonomics and prevents it from slipping in the hand. Unlike the back plate, the sides of the phone are shiny and reflective, and a shade of green that doesn't particularly match the back. A bad point that doesn't, however, overshadow the nice finish on the back of the phone. the device.
The device is not dust and water resistant and therefore does not have an IP68 rating. As a reminder, this index means that a handset is "dustproof" and that it can withstand immersion in up to 1 m of water for 30 minutes. Its omission is surprising to say the least on a flagship device, especially since the OnePlus 9 Pro was rated IP68 overall.
Maximum Size
The size and weight of the device are in the area expected for a smartphone of this type: 73.9 mm wide by 163 mm high by 8.55 mm thick for a weight of 200.5 g. OnePlus still lacks a 3.5mm headphone jack, the only slot being a USB-C port on the bottom edge, where there's also a speaker grill and a dual 5G SIM slot.
The volume rocker is on the left, and on the right is the main power button and OnePlus' signature alert slider, sporting a lightly textured finish that makes it easy to locate with just a touch. This three-position slider lets you quickly switch between ring, vibrate, and silent modes.
Some manufacturers have already solved this problem: we can cite Google with its full-length camera dot on the Pixel 6 and 6 Pro, and Xiaomi's Poco sub-brand with its long dot on the X4 Pro.
A Stunning Screen
The OnePlus 10 Pro's 6.7-inch AMOLED display is stunning. The resolution is 3,216 by 1,440 pixels (20.1:9, 525ppi) with a peak brightness of 1300 nits and support for LTPO technology. Support for LTPO technology automatically varies the refresh rate up to 120Hz, a feature designed to extend battery life. It should be noted that these specifications are identical to those of the OnePlus 9 Pro from last year, although the screen protection changes from Gorilla Glass 5 to Gorilla Glass Victus.
OnePlus' smartphone screen technology may have reached some kind of plateau in terms of key metrics, but the manufacturer still found a few areas where it could improve on the 9 Pro model. One of them is a faster change in refresh rate, which in turn helps with battery conservation.
The other is related to screen brightness, and there are two aspects to this. OnePlus introduced dual color calibration, where the screen is calibrated at 500 nits and 100 nits. This is important because screens are typically calibrated to one level of brightness, and color accuracy is lost the further away from that level you go. Here, color fidelity must be maintained across a range of brightness settings. That's not all: OnePlus' smartphone monitors changes to brightness settings made manually and takes user preferences into account in its automatic brightness changes.
That makes a big difference: we've indeed found that there's no longer any need for manual brightness adjustments after just a few days of heavy phone use. The stereo speakers deliver plenty of volume, and while there is some distortion at the top end, the quality is there. The bass is quite strong, the treble a little light, but the whole is largely appreciable.
Has OnePlus Lost Its Soul?
OxygenOS (12) is still around, and its features include integration with the OnePlus Watch, a Scout feature that provides quick search options for content on the handset, and a Notes app. OnePlus is also keeping its Pro Gaming mode, which disables notifications and other interruptions so you can enjoy uninterrupted gaming. However, by getting closer to Oppo, OnePlus has lost some of its style.
With significant additions on top of Android 12, it's perhaps unsurprising that 26GB of my test unit's 256GB was consumed, leaving 230GB free. This is all the more damaging since you cannot expand the storage via MicroSD.
The OnePlus 10 Pro runs on the current flagship processor, Qualcomm's Snapdragon 8 Gen 1. Our test device was smooth and responsive, and we had no complaints with its performance. Under Geekbench 5, it achieved average CPU scores of 1007 (single core) and 3485 (multi core). These results are slightly lower than the Xiaomi 12 Pro, but still sit comfortably in the upper echelon of the Android Geekbench benchmark charts.
The OnePlus 10 Pro ultimately proves to be an attractive device if you're looking for flagship-class performance on a budget. The 6.7-inch AMOLED screen is fabulous, and the speakers, while not exceptional, are perfectly acceptable. 80W fast charging is welcome, and OnePlus is bringing back its popular alert slider. On the other hand, the 30x zoom of the camera turns out to be rather useless, while the absence of an IP index (except for the American model) and the somewhat bland Android 12 overlay limit this device, which is nevertheless attractive in many aspects.