What Is The Difference Between SEO And SEM?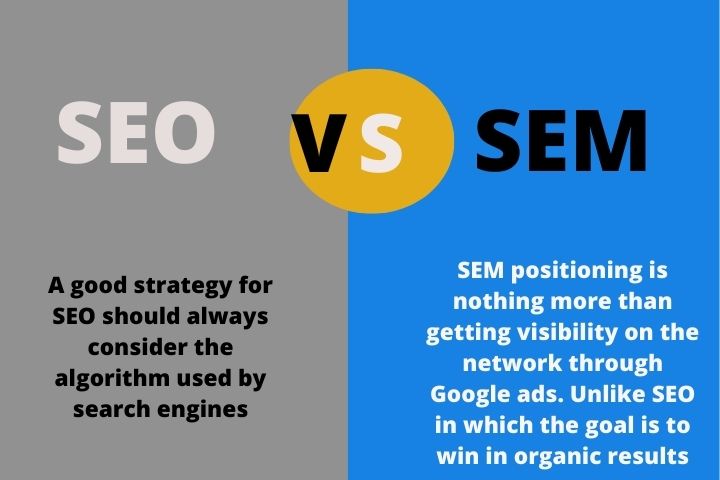 Difference Between SEO And SEM : Generally when we talk about SEO or SEM positioning, we are referring to two basic elements when it comes to online marketing, since they are two of the main online sales channels, if not the best. 
Although there are differences between the two, the objective is always the same, to seek to be among the first results of search engines and gain visibility on the Internet. However, SEO is done through organic results while SEM achieves it through paid ad campaigns. Below we will explain a little more in depth its main characteristics.
What Do The Acronyms SEO And SEM Mean?
SEO (Search Engine Optimization)
It is basically the positioning in search engines or search engine optimization of web pages, which we can achieve through a well-developed strategy that allows us to be among the first results of the SERP (Search engine results page) refers to the results shown by a search page such as: Google, Bing, and Yahoo! among the most prominent.
We believe that SEO should be a natural, well-worked and planned process that does not involve payments in ad campaigns, but time and dedication to achieve our goal of being among the first in search.
Also Read : Best Android TV Box
A good strategy for SEO should always consider the algorithm used by search engines, and from there lay the foundations of the objectives we want to achieve, otherwise, it could penalize us and descend to the last positions or worse, eliminate us from the search list, so the plan we are going to devise must be within the regulations of these explorers.
Also, there are important aspects such as the correct optimization of our website, which includes the implementation of certain techniques such as meta tags and page architecture that are very important in the SEO strategy. Even, the quality and originality of the content adding appropriate links that will allow us to get even closer to those top positions.
By the way, an important fact to keep in mind is that to achieve good results it is convenient to previously prepare a study of the keywords that we are going to use on our page.
SEM (Search Engine Marketing)
SEM positioning is nothing more than getting visibility on the network through Google ads. Unlike SEO in which the goal is to win in organic results, SEM seeks to obtain a greater presence through campaigns in ads that are paid. In other words, create ads instantly to advertise products or services from our website on Google. It is usually used in parallel to our SEO campaign which has to be the cornerstone of our online marketing strategy.
When we start a SEM campaign we must previously carry out a study of the keywords with which we want to appear in these ads, the campaign structure and the set of ads are also part of this strategy and of course, a landing page, obviously related to those we are advertising.
Once the campaign has started, we must follow up on the whole process, monitoring is always important to be aware of conversions. 
Conclusion
These are options that we advise working together to achieve the best results. Carrying out a SEM campaign is the perfect complement while you work on SEO positioning, since we can monopolize more possibilities of making a conversion on our website. The equation is simple, the more results a product appears on our website, the possibilities multiply and the benefits at par. In this way, we will begin to gain greater presence in the network.
Also read : Experiental Marketing