All You Need To Know About Collaboration Software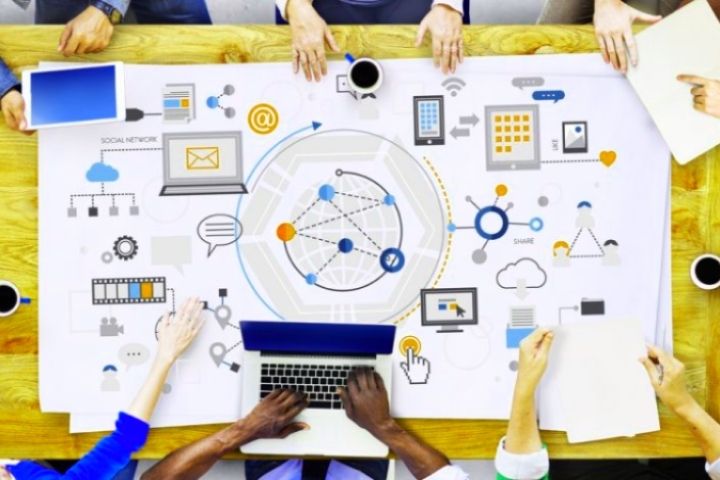 Collaboration Software tools give you the ability to improve productivity, optimize teamwork and automate processes.
Use the comparator appetizer to evaluate the characteristics and prices of the different programs for collaborative work!
Collaboration Software
There is no shortage of terms: groupware, collaboration software, collaboration software, collaboration software .But the goal is the same: to allow a group of users to work together in a single workspace without necessarily being together.

You will have access to the most common web applications: messaging, office suite, document exchange, instant chats, calendar or social network. All data is stored in the cloud, safely and accessible from anywhere. It will give your team all the tools to go towards the same goal.

To learn more about these digital working methods, discover our guides on collaboration.
Levels Of Collaboration
Traditionally there are three categories of collaboration software depending on the level of collaboration and interdependence between the three users.
Communication Tools :
They are information exchange tools. If it is asynchronous, we are talking, for example, of emails in which the exchange dynamics is low. For the rest, we have synchronous communication, as in the case of instant messaging, where exchanges between users are almost immediate.
Conferences:
Tools in which the focus is the realization of a common objective for the different actors
Coordination:
Provide the maximum level of interdependence between the actors. They must make it possible for all employees to contribute and ensure that all can carry out their tasks for the execution of the overall activity (for example, project management).
Groupware Uses
Educational
One of the latest trends in education / training is collaborative learning. It is a relationship of interdependence between the members of the group in the execution of a project. It can be understood as group work between students who can use collaboration platforms to share tasks, give each other deadlines and communicate through chat and email.

For the rest, a collaborative dynamic is increasingly applied in the teacher-student relationship. In this sense, we have asynchronous communication tools (email), online learning platforms, webinars, online tests and much more.

It is a whole series of tools that have led to the emergence of fully online undergraduate courses and fully online teaching for lower grades of education.
Corporate
Within companies, the adoption of a more collaborative dynamic is increasingly important. Thanks to the use of this software, almost any kind of activity can be carried out collaboratively. Starting with the management of tasks that can be shared within a project to see the general progress of the team, any blocking points, etc.

Then, thanks to tools such as shared agendas, you can see availability to organize meetings and better organize deadlines through availability.

Additionally, chat and email have partly solved the problem of over-meeting by making in-person meetings scheduled only when necessary.

Business

training can also be simplified through presentations and webinars.

Finally, this type of software has marked a turning point in document management. All documents are centralized, they can be modified by the different members of a team without having to worry about sending the most up-to-date version.
Advantages Of Groupware
Information management and internal

communication

are now major problems for companies. We often handle a large amount of information or tasks to manage and sometimes it is difficult to navigate. To cope with this, companies need tools for collaborative work.

Many people would like to work more efficiently and quickly, but they often don't know how to do it. The exchange of information and professional work today is essential for the productivity and communication of the company.

Fortunately, today we live in a modern era where collaboration tools exist and where work files can be created and shared. Unfortunately, knowing which tools to use is not an easy task.
Types Of Collaboration Software
When we speak of groupware, we are actually referring to several categories of software whose functionalities can be grouped within an individual software.

Share files.

Document management (DMS).

Task management

Webinar.

Conference Web.

Presentations.

Corporate social networks.
Also Read : All You Need To Know About Portfolio Management