All You Need To Know About Android Vs Ios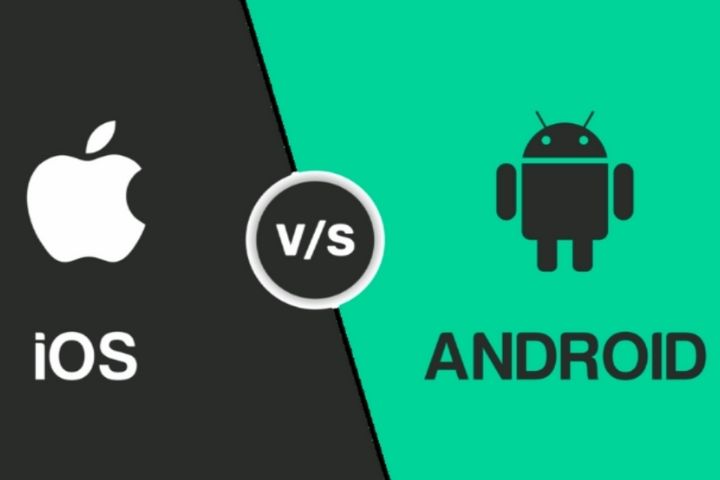 In this article, we explained about Android Vs IoS.
Based on comparing these leading brands in the mobile telephony market, we will quickly review the results of some measurements related to the purchase of smartphones in the last quarter of 2019. In this way, we will be able to make a first assessment of the iPhone vs Android struggle . 
According to the consulting firm Canalys, Apple saw a rebound in global shipments of smartphones. This was a consequence of the demand generated by the iPhone 11 that allowed the Cupertino corporation to take the lead. In total, it sold 78 million units and grew 9% compared to the same period in 2018.
With seven million fewer, Samsung ranked second but posted only 1% growth. Huawei came in third, suffering a decline of 7%. The brand that grew the most, in percentage terms, was Xiaomi with 23% and 33 million devices sold. In fifth place is the Chinese manufacturer Oppo , with 30 million devices and a 2% increase compared to last year.
However, the same source points out that in data analysis in 2019 Samsung remained the leader with 298.1 million mobile phones sent and 21.8% market share . With a difference of three points, Huawei snatched second place from Apple, reaching 17.6% market share and 240.6 million units. The Apple corporation obtained 14.5% with 198.1 million smartphones sold.
Following the ranking, Xiaomi and Oppo , with discreet but steady growth, sold 125.5 and 120.2 million devices, respectively. Regarding market share , both reached 9.2% and 8.8%.
Also Read : What Is A CRM Software?
Another Vision Of The iPhone vs Android Contest
Based on the above data, it is clear that Android, as the operating system of several smartphone brands , surpasses Apple's iOS in presence . Even so, characteristics such as price, aspirational profile and even the ages of the users change this reality. As incredible as it may seem, these three variables together make up another world ranking of mobile device models that has been published recently:

At the top of the list is the iPhone XR , with 3% of sales. But, the iPhone 11 appears in fifth place, with 1.6%.

The Samsung Galaxy A10 and A50 occupy second and third places, with 2.6% and 1.9% share, respectively. Meanwhile, the Galaxy A20 appears in sixth place (1.4%) 

Oppo placed three models in this top ten. The A9 of this Chinese brand is in fourth position, slightly exceeding the iPhone 11 in sales. The A5s is in sixth place (1.5%) and the A5, in eighth (1.3%).

Finally, in the ninth and tenth they are the redmi 7A of Xiaomi (1.2%) and P 30 Huawei (1.1%).
Price Does Matter In The iPhone Vs Android Preference
There are two top-of-the-line Apple models that rank high on this table. But the three examples of Samsung Galaxy A series far exceed them in sales for being low-end, low-medium and high-medium devices. That is, we are talking about prices that are around 110 euros (A10), 200 euros (A20) and 350 euros (A50), for equipment with benefits ranging from basic to satisfactory.

Likewise, Oppo enters with three models in this ranking for the same reason. Specifically, its mid-range A9, with a Snapdragon 665 processor, four

cameras

and a 5,000 mAh battery, can be purchased for less than 250 euros. For its part, the A5, with very similar characteristics, is around 200 euros.

So far, the balance of the

iPhone vs Android

battle is once again advantageous for the Android company.
Age And Aspirational Profile In The IPhone Case
In essence, the iPhone phenomenon could be explained based on the ages and level of aspirations of the users. To analyze these variables, we will use a measurement carried out in (2016), to profile mobile device users by brand. In this sense, the comparison between Apple and Samsung customers was striking:

26.6% of the owners of iPhones were young people between 16 and 24 years old. While those of users from 25 to 30, represented 23.1% and from 35 to 44, 27.6%

In the case of Samsung , the range of customers between 35 and 44 is 33.1%. On the other hand, those from 25 to 30 years old, 21% and adolescents and young people from 16 to 24, only 11.1%

In conclusion, users of Apple devices are, on the one hand, adolescents and young people who acquired them through their parents. Meanwhile, another important group is made up of young people willing to go into debt to buy iPhones. 

Several analysts believe that Apple's marketing is based on emotions and a high standard of living, and influences the preferences of this audience. In fact, Steve Jobs, co-founder and CEO of the company, admitted that he was not selling technology but experiences. This approach, together with the powerful brand image of the corporation, are formed as aspects that drive the purchase decision. They are even more decisive arguments than the extraordinary capacity of its processors.

In the same way that Samsung focuses its marketing to a greater extent towards its high-end models. The cheapest models are very successful in a target that analyzes the value for money before making the purchase decision.
Also Read : Types Of Web Pages That Exist
Geographic And Political Factors In Competition
In North America, Apple dominates the mobile device segment; five of its models, led by the iPhone XR, top the Top 10 sales . One of the reasons for its success lies in the trust and identification of the prototype of the American client, who prefers a native and quality brand.

In China, Huawei achieves an interesting rebound after the uncertainty that arose as a result of its inclusion in the so-called "black list" of President Donald Trump. Probably, the Chinese telco that supports Vodafone in the expansion of

5G networks

, will not have the Android operating system for their mobiles in the future

Google could face penalties for providing the Asian company with this software. As we said, Huawei has already presented its Harmony OS operating system, which, according to the directors, is complementary and not a substitute. Although if the China-US conflict reaches greater levels, it will not be surprising that this component enters a competition that will no longer be only

iPhone vs Android

.
Also Read : All You Need To Know About Best Affiliate Marketing Programs