10 Tips To Launch A Successful Product Or Brand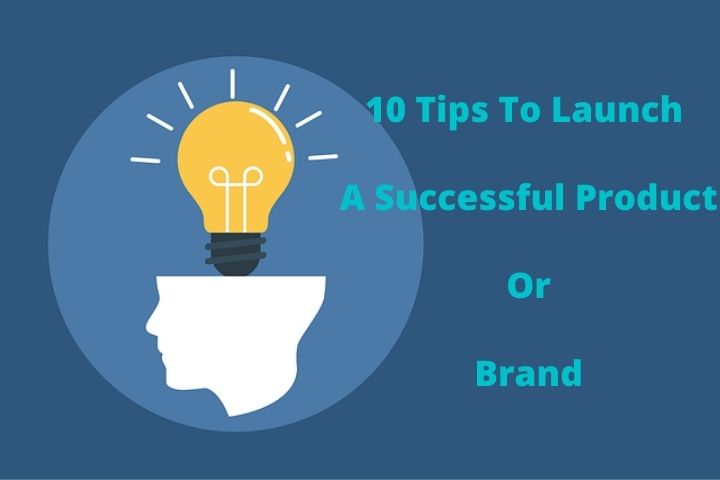 You have before you a wonderful opportunity. You know that you have a good idea, a good product, the best team, a careful manufacturing process that you have opted for.. Your new brand or product is ready to hit the market, but how do you do it to generate an impact? You have endless options before you to try to make your company stand out in a market in which achieving it is increasingly complicated. How to find the magic formula that will make your product successful and quickly get new and loyal customers?
In marketing, as in almost everything, there are no miracles. Behind each new launch, each success and each action, there must be a defined and goal-oriented strategy. If you have not risked it in the conceptualization or in each phase of creating your new product, it is not exactly the time to improvise in terms of marketing actions.
For this reason, your first decision focused on success cannot be other than to bet on a solid marketing plan in which the strategy is focused and winning marketing actions are proposed. If you want to ensure the correct options, we choose below some proposals that will make your new brand advance and consolidate. Let's meet them!
1. Create Your Marketing Plan
Trust professionals to prepare what will be the strategic plan focused on giving visibility to your company and product. In addition to traditional marketing, a great idea for projects today is to bet on digital marketing , in a world where more than 4,000 billion people use the Internet. 
The marketing plan will serve as a guide to detail both the orientation of the strategy to be followed, as well as a definition of the plan of actions to be carried out in a given period of time. What should a marketing plan include? This document will include goal setting, benchmarking, buyer persona, unique selling proposition, brand attributes, definition of KPIs, proposed marketing actions, and work schedule, among other aspects.
2. Invest In Marketing
A fundamental decision will be to set your marketing budget. The actions you are going to carry out will depend on it, so it is interesting that you know it before the marketing plan is drawn up. Consider marketing not as an expense but as an investment, since the results of visibility and impact of your new brand or product will depend on it. The good news is that you can propose a gradual budget, that is, start with a specific budget and as you get results, consider increasing said investment based on the return obtained.
3. Brand Definition And Personality
Marketing professionals will help you define what are the differentiating elements of your brand or product to which you should give greater visibility in this launch phase. Choosing the right attributes to build brand personality is critical right now. Once defined, it will be much easier to direct actions to positively impact our target audience.
4. The Web: The Best Cover Letter
Regardless of the activity of your company, it is mandatory to have a website that communicates the activity of your brand, your products and services in an attractive way. Needless to say, it must be optimized to be seen correctly from any device, in addition to having calls to action and a structure designed to impact your potential customers. 
And if you also start selling over the Internet, the online store must be perfectly designed to focus on sales, with all usability standards, as well as providing at all times the information that the customer needs to make their purchase decision.
Also Read : How To Use USB Debugging On Android Phones?
5. Make Google Find You
Your web page must be optimized for SEO , with a friendly structure, tags, titles and labels that make it positively valued by the main search engines. Working on SEO is essential in our marketing strategy, something that must be combined with other actions such as SEM to gain results in the short and medium term as well.
6. Bet On Digital Advertising
The SEM will be one of your best allies in your launch strategy. Pay per click will help your company to be more visible, being able to choose the most appropriate channels, segmentation, set a daily budget, etc… SEM specialists will choose the channels in which it is most interesting to appear (Facebook Ads, Instagram Ads). , Google Ads search or display network, Google Shopping…), as well as the most impressive ad modalities. The good thing about digital advertising is that you can measure results almost in real time, so that it is essential when assessing the return of our actions and reorienting the strategy at any time.
7. Content Marketing
The time has come to position your brand as a connoisseur of its sector, which knows very well what it does and what value its products offer. Supporting you in content marketing, your company will create valuable content and in a short time it will be able to become a reference if a solid planning is followed. 
You can offer good content in multiple formats: your website, a product landing page, posts on social networks, videos, audios, blog articles, news, infographics… The combination of all this will make your company more visible and reflect that expertise you have.
The launch of your brand or product must include actions focused on creating a community on social networks. For this, raffles and contests are very useful in this phase, which will focus on making your brand known and that your products are valued by the first consumers. The important thing is that the actions are striking in a way that helps to viralize the content.
8. Influencers And Prescribers
In new brands and products, it is essential to have good prescribers of your brand, who tell their experience with your product to potential consumers. It is a good way to promote "word of mouth" but in digital format. In the world of influencers , all that glitters is not gold, so you must choose very carefully who you collaborate with. It is preferable to have collaborators who have fewer followers but from the niche that interests your brand, and for this collaboration to be as natural as possible. The objective is to get influencers who believe and trust your brand , who want to collaborate to achieve a beneficial agreement for both parties and lasting over time if possible.
9. Customer Experience
From the first moment a user begins to interact with your brand, their experience must be memorable and unique . What we should expect is that the impression of our client is so positive, that we achieve his loyalty as well as a prescriber who brings new clients. It pays to invest our efforts at each point of contact, as well as to offer exemplary customer service.
10. Marketing Automation
The actions to capture leads that we carry out will serve to feed our database of clients and potential clients. The next step is to build a communication with them that is relevant, pertinent and in accordance with their preferences and needs. Marketing Automation is one more step in traditional email marketing, offering unique possibilities to automate and personalize communication flows with each of our clients.