How To Transfer Files From Mobile To Computer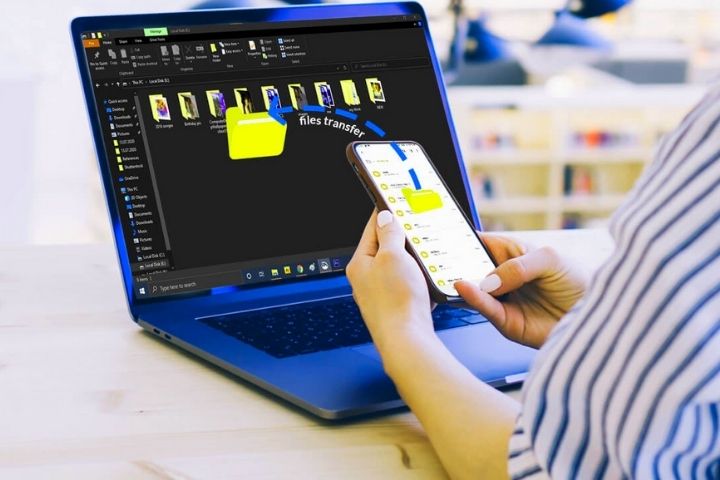 Transfer Files From Mobile To Computer : Connection cable and help apps are tricks to pass data from smartphone to PC or Mac smoothly
A study carried out in April 2015 yielded a curious fact: There are more mobile phones than inhabitants. And on numerous occasions, these phones store important files (photos, videos, work documents) that need to be passed to the computer in some way.
This task, which at first glance would have to be simple, can be complicated for various reasons. But this article explains some tricks to be able to easily pass data from the mobile to the PC or Mac, from the most obvious to applications that have been designed to help in this work.
The computer and the mobile are two devices that are used daily, but when you try to communicate with each other, in order to pass documents from one to another, it is possible to encounter some difficulty. If you do not have the connection cable at hand, it is often time to resort to tricks a little convoluted to be able to have on the computer the file that until now was only on the phone. Luckily, some developers have created applications for this purpose, which make moving files from mobile to computer easier and faster than ever.
The Simplest: With The Mobile Cable
When asked how to transfer files to the computer, the simplest answer is to use the connection cable that comes with the device and is used to charge it via USB. When you use this cable to connect your phone to your computer, it will appear as one more disk drive (just like when you connect a USB stick). This drive can be opened with the "File Explorer" to pass data back and forth by simply dragging and dropping it between different windows.
However, there are some details that need to be taken into account. If the device is an iPhone, to use it with Mac you have to enter iTunes. In Windows, on the other hand, it can be opened in a File Explorer window without problems, although the folder structure can be a bit messy. In the case of Android, if you want to use it with Mac, you have to install a small extra utility called Android File Transfer.
Tricks To Pass Files To The Computer
If you do not have the cable at hand or prefer a faster solution, a trick that many people resort to is to use an app that, although it is not designed for this use, allows files to pass from the mobile to the computer in a few seconds.
You can use the classic "send an email to yourself" with the file in question attached to the email message. Another option is to use an application like Telegram, which has a mobile app and desktop client; in this way, it is possible to send a file to yourself from the phone and receive it on the laptop or desktop.
Applications That Help You Pass Files To Your PC
The tricks already explained work with applications that are not really designed to send files between the mobile and the computer, but there are utilities that are designed specifically for that purpose.
One of the first to appear was Pushbullet, a software that connects the phone with the computer equipment and that allows you to perform various operations: see the notifications of the mobile on the screen, share links between the two devices, be able to answer messages from the comfort of the computer keyboard and, of course, share files.
To use it, you have to install Pushbullet on your smartphone and a browser extension on your computer (compatible with Chrome, Firefox, Safari and Opera). It is also necessary to create a user account for free, either with the Google profile or with the Facebook profile. Pushbullet has two versions, one without cost (with certain limitations) and another for a fee, but with the first one it is more than enough if you do not have special needs.
Another similar app is Send Anywhere. It is a little simpler, because it is made only to send files, but, on the other hand, you do not have to create a user account. To use this service, you just have to go to its website, select the file you want to send and download it on your mobile using the app and the code associated with the file. The reverse process (from phone to computer) is identical.
A last application to share files between the mobile and the computer equipment is Infinit, which stands out for its ease of use, since it works on a wide variety of platforms (Windows, Mac, Android, iPhone) and, above all, for not imposing limits on the size of the files that must be shared. In this sense, Infinit can be very useful for sharing large files, such as videos.
For Mac Users, AirDrop
Finally, Mac users can use a special file sharing feature built into their operating system: AirDrop. With this feature it is possible to share files not only between iPhone and Mac, but also between two iPhones and two Macs. To do this, it is necessary to meet certain requirements regarding the version of the operating system of the devices, which can be consulted in detail on the official website of Apple.