Alexa Closure, What Alternatives Do We Have?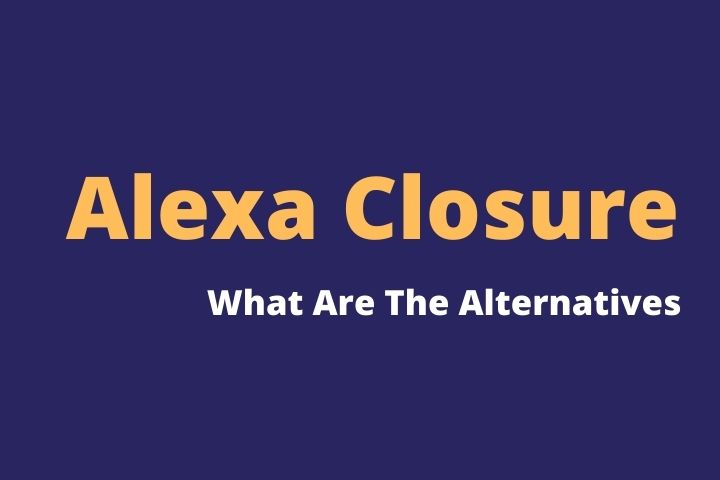 Alexa Closure : After 25 years, Alexa Rank, which began as an independent company in 1996 and was later bought by Amazon in 2009, closes its doors on May 1, 2022.
The global positioning system that has ordered millions of sites from highest to lowest popularity, says goodbye after becoming one of the reference resources for content research and competitive analysis. In addition, it offered data such as the percentage of users who visited our website, the average page views or the clicks it received.
We will be able to export our data , but not buy a new subscription. If we already have one, it will remain active until the closing date. In the event that we use the APIs, they will continue to be available until December 15, 2022.
Alternatives To Closing Alexa Rank
There are excellent SEO alternatives that can replace the closure  of Alexa Rank, surpassing the almost extinct Amazon tool. Let's see some of them:
Semrush
With a wealth of experience under its belt, Semrush is a popular content marketing platform that has good analytics tools for Web and SEO. It has many functions that will serve us as a market study, carrying out campaigns and, of course, SEO.
Advantages. Keyword suggestion tools, SEO competitor analysis, rank tracking, and backlink tracking.
Drawbacks. It requires slower learning than expected and has a high cost, although it offers a 7-day free trial.
Moz-Pro
One of the tools that we will find for professional SEO and MD tasks is Moz Pro . It offers functionalities to automate positioning tasks and improve the user experience.
Advantages. Keyword research, rank tracking and link research. In addition, it has a 30-day trial version.
Drawbacks. It is not the best option for beginners and has expensive plans.
Ahrefs
With the closure of Alexa a very popular replacement among SEO experts is Ahrefs . We may use the platform to optimize our website, compare our site to the competition, research keywords, track site rankings, etc. Without a doubt, it is one of the tools that offers us the best quality metrics.
Advantages. It has up to 10 search engines for keyword research and alerts for ranking. The data it offers is many and detailed.
Drawbacks. It does not have a free trial and is not recommended as an entry for beginners.
Similarweb
Similarweb is a platform that provides Web analytics and performance services, providing information on the Web traffic of our users and that of our competitors. It gives us global country and category ranges for the websites we choose, along with engagement and traffic metrics by region. We will also be able to consult our most direct competitors and compare their ranks and participation rates.
Advantages. One of the best Web traffic comparison tools.
Drawbacks. It does not have a mobile application and its plans are not cheap.
Spyfu
This other alternative is worth trying, as Spyfu can track our keyword rankings, analyze our competition, what words they rank for, and confirm, per keyword, their backlinks. Among many other things.
Advantages. The analyzes to investigate the competition are excellent. In addition, it has a fairly solvent free plan and the paid ones have a very affordable price.
Drawbacks. The interface is not ideal and they should give it a spin. It looks a bit messy and until you get used to it it can be overwhelming, especially if you are using it for the first time.
Conclusion
The closure of Alexa Rank was something that had been coming for a long time, but it does not represent a major blow to the sector as it has numerous alternatives that surpass the already obsolete Amazon tool in almost everything, although it was nice while it lasted.
Also Read : Voice Search