7 Best Practices For Outsourcing Software Development In 2022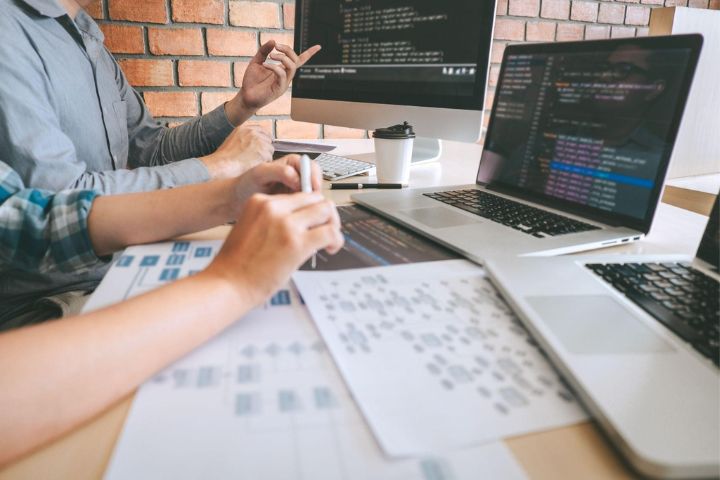 According to new research from Commit, outsourcing for software development at start-ups is expected to increase by 70% between 2022 and 2023. Furthermore, 99% of senior technology and HR leaders today recognize the benefits of remote teams. 75% report an increase in productivity from their remote staff, indicating the bright future of remote work.
As an increasing number of businesses are outsourcing dedicated software development services, it's no surprise that outsourcing has a lot of perks, such as lower costs and easier access to talent.
However, working with outsourced software partners requires communication and project management skills. Without applying caution, one may overlook the risks of outsourcing or fail to implement best practices such as delay in delivery, communication gaps, and security risks.
Here are seven best practices to follow for outsourcing software development to avoid the risks that come with it.
Best Practices for Outsourcing Software Development
Practice background check
Before making a long-term commitment to outsourcing software development, it is important to be well-informed. This involves doing your homework and getting recommendations from trusted sources, reading reviews from previous customers, and evaluating their portfolio for technical competency and experience to see if they adequately meet the needs of your project.
If possible, you can inquire about the hiring process or individually assign it to your project. Similar to hiring employees, you want to ensure that your project is in capable hands.
Be specific and define a clear project scope
Miscommunication is common when working with people outside your organization, and it can throw a project off track. That is why a Scope of Work (SOW) document is essential for any project. Remember that your list of criteria should be tailored to the specifics of your project. This also includes the vendor's associated tasks, duties, and responsibilities.
Create milestones to track progress
When companies hand over all the requirements to the development team, they make the fatal mistake of believing the job is done. There are numerous ways in which this can go wrong.
Instead, specific milestones and mini-goals should be established for the project's entire lifecycle. This aids in keeping track of what has been accomplished and what is still outstanding.
Furthermore, the various milestones allow you to see the functional components of your application. This is significant because a functional section may identify issues, opportunities, and the overall flow of the software development process while adding modularity to the project.
Pay attention to security
Security is of utmost importance when outsourcing software development. Inquire about internal policies regarding client projects: How do they ensure the security of their client's data and intellectual property from theft?
Examine how the company protects its work environment and IT networks to understand its cyber-vigilance. Are anti-virus software, firewalls, and active network monitoring tools used? Discussing code testing, penetration testing, and security management with your software partners is prudent.
It should also be stated upfront what can and cannot be done with the information once it is in the hands of the outsourcing team. A well-structured NDA (Non-Disclosure Agreement) will be helpful in this case.
Get the financials right
It is important not to have a rigid budget that'll compel you to go with the cheapest available outsourcing company. There must be a balance between your expectations and your willingness to pay for it. Once this is determined, the next step is to determine what will be paid and the payment medium.
If any events result in payment, they should be clearly stated in advance. When outsourcing a project, there is a possibility of exceeding the budgeted amount. Due to unforeseen requirements, additions, or problems that may arise.
Opt for an engagement model that meets your requirements
In this context, having an established payment structure with the outsourcing team can be beneficial.
Hourly rates: In this case, the outsourcing team is paid a set rate per hour. As the lifecycle of a smaller software development project may be relatively short, it would make sense to pay for only the time spent on it. This is also useful for projects that only require minor changes.
Fixed rates: At the start of the product, a fixed budget is established with clearly defined goals, scope, and durations.
Dedicated: This term is typically used by large projects or businesses that require you to hire a dedicated team of developers to work with.
Use project management tools to effectively organize work
Project management tools are gaining popularity due to their effectiveness in improving collaboration and streamlining software projects. They provide a platform for clients and software partners to communicate and share files, keep track of various tasks, and meet project deadlines.
Bottom Line
It may take some time to find a good match immediately. However, finding the right partner to outsource your software development needs, means that your company can grow and expand in diverse ways. The impact of this arrangement on your business is significant, and as such, proper precautions should be taken to get it right.
Creating a partnership for outsourcing software development is not an easy task and should be approached with caution. However, the practical steps outlined above should go a long way in achieving seamless collaboration.